April/May 13 Positive Classroom
"Emotion is the on/off switch of learning. We don't talk about it enough as a pedagogy tool. Fear and shame shut it off; hope, enthusiasm, and safety turn it on."
Ed Hallowell, a child and adult psychiatrist, founder of The Hallowell Center for Cognitive and Emotional Health, and a former member of the faculty of the Harvard Medical School.
************
From my perspective, based on many decades of educational experience, the three most important elements of a highly effective teacher are: 1. To create an empathic classroom environment and ensure that the environment actively supports students in the work of learning (mindsets, connections, community); 2. To master the skill of actively and effectively engaging students' attention prior to and throughout the class. 3. To be a master of their cognitive domain possessing comprehensive knowledge of their chosen subject material.
This month I will discuss the first principle of effective teaching - empathy.
Initially I will present some personal viewpoints relating to how empathy affects students' learning in the classroom followed by Carol Ann Tomlinson's presentation.
**********
I hope this month's discussion is obvious and validates and reinforces what all teachers are already doing in their classrooms. I am sure all successful teachers are utilizing many of these ideas/methods and the only difference is they do not classify or categorize what they are doing in the classroom as noted below.
A college junior knows enough subject matter to teach a Concept/Basic level math/science/social studies course to 9th or 10th students. But what is lacking in many cases of not only a beginning teacher but also in many veteran educators is the understanding of the importance of establishing an emotional safe classroom learning environment and "ensuring an environment that actively supports students in the work of learning (mindsets, connections, community)."
What I would like to explore is how to enhance the classroom-learning environment by making it a safe, secure, and relaxing setting for all children and therefore increase the student's rate of learning and depth of comprehension of the material.
How does a teacher create an environment where students want to learn, are cooperative, learn from each other, are willing to take risks because they feel safe and secure, and where all parties feel a sense of ownership?
The answer to this poses two questions. What are the mindsets and characteristics of educators who create motivating and learning environments? And what is the mindset of students who are motivated and learn effectively?
Bob Brooks, a clinical psychologist on the faculty of Harvard Medical School and noted author and international speaker on resiliency, describes mindsets as "assumptions and expectations we have for ourselves and others that guide our teaching practices and our interactions with students, parents, and colleagues."
Teachers always ask for teaching strategies. Strategies do not improve student's learning; good student-teacher relationships solve problems. Teaching strategies are worthless unless it is the context of a good relationship.
The late Julius Segal, a pioneering psychologist in resiliency research and noted author who for 12 years was the director of the Office of Scientific Information at the National Institute of Mental Health, was an expert on the trauma faced by prisoners of war and hostages. He studied and treated veterans from the Korean War and the Vietnam War and the Americans taken hostage by Iran in 1979. Towards the end of his career, he focused on child development issues.
Segal notes that all survivors have one thing in common; they all have experienced a charismatic person in their lives, a person from whom they gather strength. He spoke of a "charismatic adult," a person with whom children "could identify and from whom they gather strength." While the obvious candidate for the role would be a mother or father, Segal noted that in a "surprising number of cases that person turns out to be a teacher." Brooks points out that many of the violent kids in today's headlines glaringly lack such a mentor, either at home or in class. A common thing among the school shooters is a feeling of isolation," he says. "The more you're isolated, the more impossible life is."
Students don't care what we know until they know that we care. Our relationships and interactions with students in classrooms influence their learning either positively or negatively.
Our brain feels before we think, and learning is influenced by our social network and interactions. Emotions color meaning, thoughts, and learning. It has often been said that, "We feel before we think."
Humans are always emoting; there is no thinking or cognition without emotions. Emotions are the functional organizers of our thoughts and actions; they shape our learning pathways, and serve as our approach/avoidance mechanism. We are always having emotions; emotions move us, and they are the key to learning. We had emotions before we had language, mathematics, and schools. Emotion and cognition are two sides of the same coin; there is no Mr. Spock.
~~~~~~~~~~~~~~~~


Carol Ann Tomlinson
Carol Ann Tomlinson, reviewer for eight journals and author of over 200 articles, books, and other professional development materials. For ASCD, she has authored several books. Carol's books on differentiation have been translated into 12 languages, and she works throughout the U. S. and abroad with teachers whose goals are to develop more responsive heterogeneous classrooms.
At the November 2012 Learning & the Brain Conference in Boston, MA, Carol Ann Tomlinson discussed five elements that make classrooms work for all students that create a positive classroom environment, propelling and inviting children to learn.
The presentation was titled The Differentiated Classroom: Five Elements that Make Classroom Work for All Students. At the end of each principle, she included the corresponding neuroscientific research supporting her beliefs, which she titled Links to Brain Research.
Below is an adaption of the presentation of her first principle that discusses the importance of empathy in the classroom: Principle # 1: Ensuring an environment that actively supports students in the work of learning (mindsets, connections, community)
~~~~~~~~~~~~~~~~

Carol Tomlinson's Manifestation of empathy: "I see you, I understand who you are, I understand what you need and I want you to succeed and I'm willing to provide that. This is much better than the take it or leave it scenario."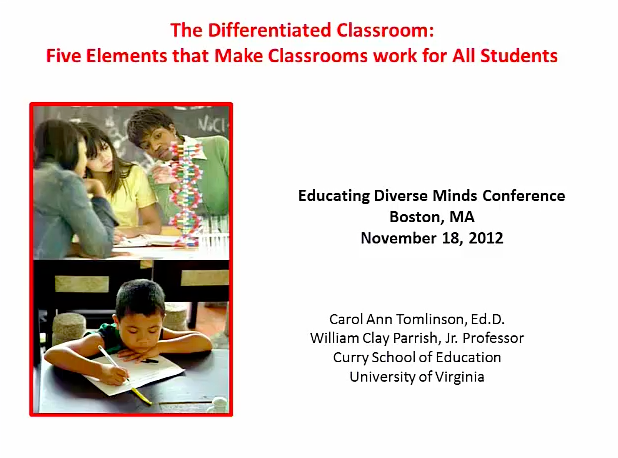 ~~~~~~~~~~~~~~~~




Principle # 1: Ensuring an environment that actively supports students in the work of learning (mindsets, connections, community)
1. Mindset: A successful teacher must create a learning environment that is a magnet for students by creating a place that compels them to learn. This environment encourages them, supports them, and makes them feel safe. Everything else is doomed to fail if we can't make the learning environment work for all students.
2. Connections: The teacher-student connection in a positive learning environment is the teacher connecting with their students. Teachers need not be social workers, nor be buddies with their students. Research clearly shows clearly that students need connections to take the risk of learning. When students feel that the teacher cares about them and likes them, they are more likely to engage with what is going on in the classroom.
3. Community: The third aspect of a positive learning environment is building a spirit of a learning community in which all students feel they are a member of the community. In a first-rate learning community, everyone has a position to play and everyone is dependent on each other. The team members help one another to emphasize their strengths and compensate for their weaknesses. All students have similar goals, are moving towards those goals, and understand how to do it in conjunction with one another.
The significance of these three aspects is they creates a positive learning environment and speaks to a teacher's commitment to success. A teacher's commitment is to insure that each student grows and comes from a philosophy that involves the three aspects. Conversely, not much success will be encountered if a teacher is of the mindset of, "Well, you know, his is that type of kid, the parents are to blame, or the students don't listen when they come into my class."
Tomlinson's first principle provides environmental safety for students so that they come in to the classroom and think that this is a good place to be even if nothing else in their world looks promising. The classroom is a good place to be. It provides a support system for students to take the risk of learning since learning is risky because it does involve failure. You need to feel safe when errors happen so you don't lose face every time one does occur.
The following are five links to brain research
Link to Brain Research Idea 1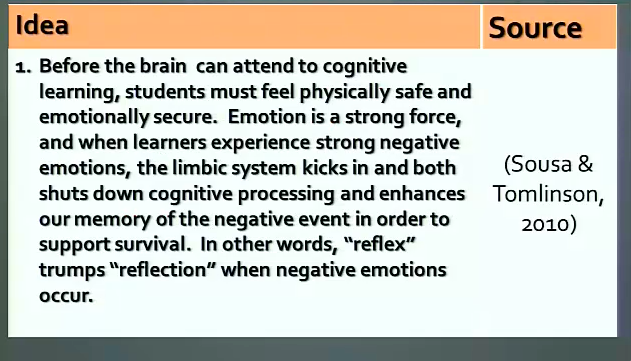 Discussion of Idea 1 

Students have to feel emotionally secure before they can do the work of thinking. Emotion is a strong component for student's learning, and if a student feels they are in a state of threat, the learning stress kicks in and cognition does not happen. The student enters a protective mode. "Let me see if I can keep from losing face, let me see if I can stay out of the way so I do not get called on again. Let me do anything I can, whether it is flight or fight mode, to preserve myself."
Reflecting on this principle, David Sousa says, "Reflex trumps reflection." In other words, when a student does not feel emotionally secure in the classroom, the student works in the reflex mode to protect their dignity and the notion of reflecting upon the subject material does not occur.
Link to Brain Research Idea 2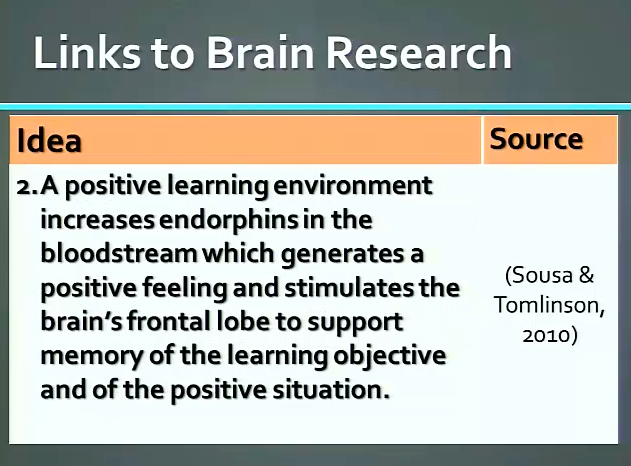 Discussion of Idea 2
Brain research notes that pleasurable experiences generate more endorphins in the bloodstream. When you are in a place where you feel affirmed, supported, and you feel that there are a lot of people on your side and the teacher really cares about you, endorphins are generated and make learning much more pleasurable. The student feels good about the act of learning and the successes that come with it.
Link to Brain Research Idea 3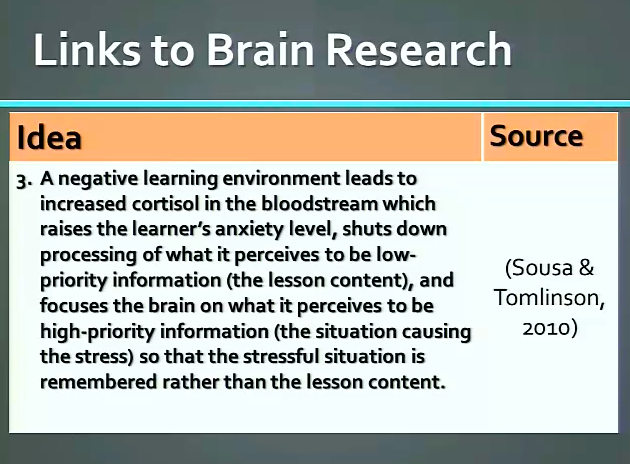 Discussion of Idea 3
On the other hand, if the learning environment isn't working, the opposite happens. Instead of endorphins, more cortisol enters the bloodstream. The brain will then focus on what it thinks is most important, self-preservation rather than what the teacher thinks is most important, the lesson. The more stress the student feels, the less likely the brain will be able to focus itself on what the teacher is hoping the brain will focus on, the act of learning.
Link to Brain Research Idea 4 & 5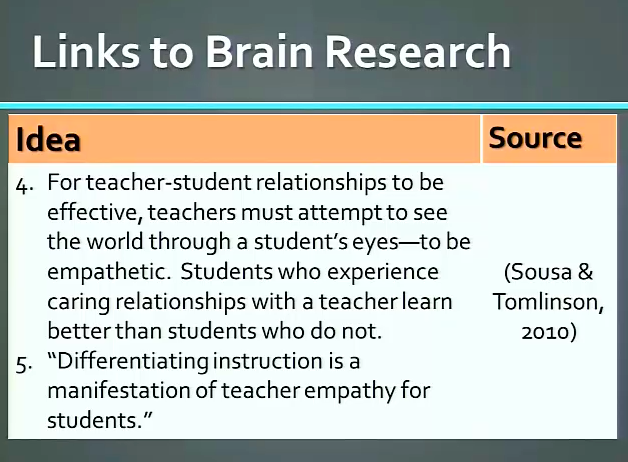 Discussion of Ideas 4  and 5
For teachers to be hugely effective, they need to see the world through the eyes of the student. That is a hard thing to do, to remember what it was like to be 12, or what it felt to be bullied in the hall, or not to be able to physically sit still. But by trying to see the world through the student's eyes, it helps build relationships with students that nurture success.